I'm excited to share this super easy slow cooker chicken garbanzo soup recipe- served with Costa Rican white rice of course!
This is a twist on one of our favorite family recipes from Costa Rica- Sopa de pollo con garbanzos- but using simple Campbell's Soup Company products. Substituting the tomato paste for Prego® Italian Sauce (Traditional) uses real ingredients and gives this soup a layered tomato flavor that I just love. And the Swanson® Premium Chicken is already cooked and packed with protein, making this recipe way too easy not to try!
Related post: Big List Of Delicious Recipes Served With White Rice
This soup can be prepped in less than 10 minutes, and all of the ingredients go into the slow cooker and can be left on the counter until dinnertime. I like to prep the soup in the morning before school and then come home to a delicious dinner that is already done when we walk in the door. Family dinner is the most important part of our day, and I love not having to stress about making dinner so I can fully focus on talking with my husband and kids about their day. Here's the easy recipe!
Slow Cooker Chicken Garbanzo Soup
Prep time- 10 minutes
Cook time- 6-8 hours
Yield- 4 servings
Ingredients
2 cans

Swanson

® Premium Chicken

1 cup

Prego

® Italian Sauce (Traditional)

1/4 cup diced white onion

1/4 cup diced red pepper

1/4 cup chopped cilantro

32 ounces chicken stock

2 cans garbanzo beans, undrained

Salt to taste
Instructions
Add all ingredients to the slow cooker and stir to combine. Cook on high 4 hours or low 6-8 hours. Serve hot, salt to taste.
We served the soup garnished with shredded mozzarella cheese and lime. We also love to add a tropical flavor to our meals, so we drank a glass of ice cold and refreshing V8 Splash® with our meal. We chose the Mango Peach flavor because, as a Costa Rican family, we love everything and anything that's mango flavored!- Walmart has lots of other flavors to choose from, including Berry Blend, Island Strawberry, Pineapple and Coconut, and Watermelon Cherry that are made with real fruit and vegetables. You can find this product in the juice aisle.
I loved using such simple ingredients for a protein and flavor packed dinner that everyone in the family enjoyed.
Ready to shop these Campbell Soup Company products ingredients? Hover over the photo below to click through to Walmart.com and purchase each of the delicious Campbell Soup Company products ingredients that I used in this recipe. Visit the Campbell's Shortcut Meals website and get the coupon to start saving on 8 different Campbell Soup Company products!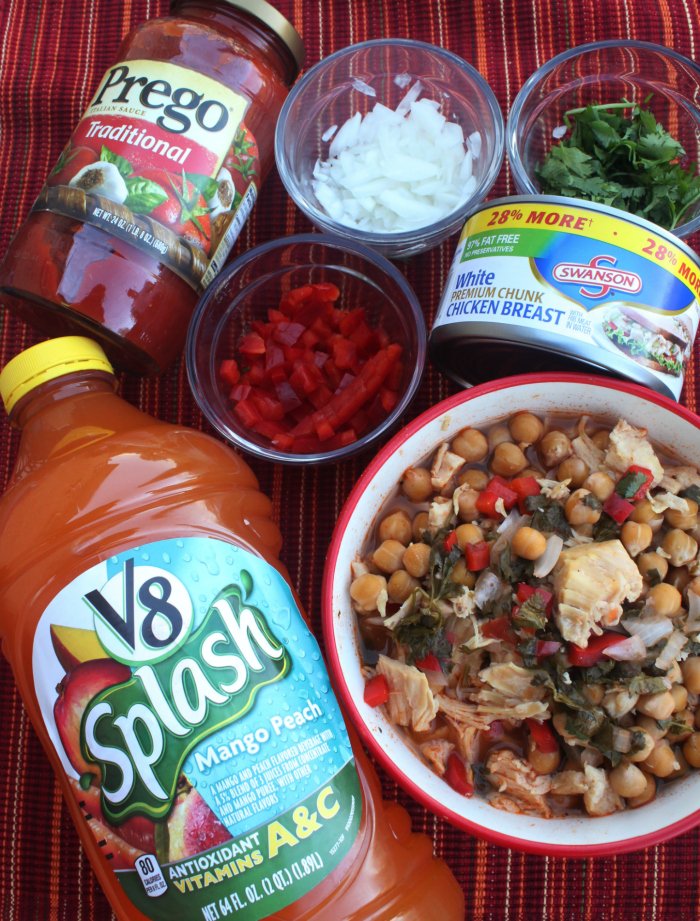 Like this post? Make sure to pin it!
Looking for other simple Costa Rican inspired recipes from Pura Vida Moms?