I'm rounding up a bunch of my very favorite things- from zero waste products to travel gear, health and beauty to clothing, and kitchen and parenting essentials.
Every single product on this list is tried and true- most of them I've been using for years with no plans to change.
If you have a product that you'd like included on this list- contact me and we can talk! If you have a product you love that I don't know about- comment below and I'll try it out.
Please use the Table of Contents to navigate through each section to find what you are looking for. In some cases, the links included in this post are affiliate links, which means I may receive a small commission in exchange for your purchase. Thank you for supporting Pura Vida Moms in this way!
Zero Waste Products
It is so so so important to me to reduce my consumption of single-use goods. To that end, we are composting and recycling, I carry around my won water cup and straw when I eat at fast-casual restaurants, and I have all but removed plastic bags from my home. Here are some of the products that are helping me to be as green as possible.
Yeti
I have several Yeti drinking cups that we use all over the house. I love to drink cold water, and the Yeti keeps cold for a long time. Totally dishwasher safe, indestructible and comes in a variety of sizes. I have made the investment in Yeti because it holds up- I bought my first Yeti drinking cup in 2015 and I am still using it, and it works like new. The downside to the Yeti is that it is a heavy piece of drinkware, so I don't travel with it.
Corksicle
I have a Corcksicle insulated stemless wine glass that I take with me literally everywhere. It's been decorated by Rifle Paper Company and holds just the right amount of water. The glass is lightweight and indestructible- I get a ton of compliments on it. Even though it's a wine glass, it holds 12 ounces of beer, keeps my water cold, and helps me to avoid single-use cups when I'm out and about. The downside? Not dishwasher safe, and I don't like the lid.
Light My Fire
This Swedish based company gave us some collapsible cups with straws and a utensil that's a single piece. We have taken them everywhere. Sometimes I don't want to drag around 4 steel-walled waterbottles, so we just use one big one (the Klean Kanteen mentioned below), and serve the girls cups of water as they are thirsty. Dishwasher safe and durable, the only downside is the straw hole can leak if the cup tips over- but any cup with a straw does that so it's not a dealbreaker. And did you see how cheap they are? No excuses not to have one!
Klean Kanteen Straws
I carry one in my purse- it's a two-part straw with a soft plastic tip and stainless steel body. Easy to clean, dishwasher safe, and my teeth love it. I really don't like it when my teeth hit a metal straw, and this plastic tip avoids all that. Oh and did I mention the adorable colors?
Klean Kanteen 64 oz Insulated Jug
This thermos from Klean Kanteen has gone to multiple countries with us. That's because it holds a ton of water, and keeps cold or hot for days. We were on a hot beach in Guanacaste Costa Rica for days, and the ice in this baby never melted. Perfect for road trips, soccer tournaments, and for road trips abroad when you need to keep filtered water on hand. Yeah, it's huge and you'll love it.
Itzy Ritzy Sandwich Bags
My daughters have to take snacks to school each day- and there was no way I was sending 4 plastic bags to the landfill every day because of snacks.
These sandwich bags do the trick- we've had them for years. Just run them through the dishwasher or washing machine and reuse as many times as possible. Just make sure to label them with your name. Here's a link to all the Itzy Ritzy reusable sandwich bags on Amazon Prime.
Ball Jars
I've been buying in bulk, making my own chicken broths, and organizing the art cart. All of these tasks are easy to accomplish thanks to Ball Jars- I have them in every size.


Travel Gear
Fjallraven
Kanken- This little backpack is the best. Water-resistant, comfortable for both my kids and my husband and I, and easy to fold up. I got mine a year ago, and it's been my go-to ever since. Worth the money.
Sherpani
Camden Backpack- When Sherpani gifted me this backpack I thought I would hate it. Instead, I fell head over heels in love. There's a place for everything and it's the best backpack ever for airplane travel.
Sherpani Zoe 2.0 Cross Body Wallet- This little crossbody wallet holds everything I need (yep, even my phone!) but also fits easily into a larger purse for days when I need to carry more. Since I took it's tag off I haven't stopped using it. Machine washes and spot cleans easily as well.
LeSport Sac
I cannot say enough about how much I love LeSport Sac. For my trip to Finland, they sent me a ton of bags and I loved every single one. They fold up nicely, machine wash like a dream, and weigh nothing.
para'Kito
I will not ever leave the house without Par'Kito again. These all-natural, reusable bug repellent wristbands work. We wore them in the depths of the Costa Rican jungle without a single bite. Plus they are all-natural, don't smell disgusting, and have a roll-on gel for when you need some extra protection. Hands down the best bug repellent we have found- here are their products on Amazon. Oh- and they're super cute!
View this post on Instagram
Adventure Medical Kits
These medical kits are complete, affordable, and come in all sizes. We have one in the trunk of our car, one under the kitchen sink, and I carry a mini one when I travel.
What I most like about them is that they aren't stuffed with products- so my daughter's Epi-Pen fits right inside. That means I don't have to carry another thing around with me.


After Bite
When you do get a bug bite- AfterBite is a great, all-natural solution to take the itching away. It works- and there's a kid's version with kid-safe ingredients. I stick one inside our Adventure Medical Kits when we travel. Check this link for all of the AfterBite product options with free shipping from Amazon Prime.
Canon EOS 6D
This is the digital camera that I shoot on, and I love it. It's big, it's bulky, but it sure does take amazing photos and I wouldn't trade it for the world.
Clothing
Keen Shoes
I love Keen shoes. For travel, they are perfect because they are lightweight and have a good grip. I walk a lot, so that's key. We just tested a family pair of their winter boots- besides being waterproof, they were also super warm and comfy.
The other reason that I love Keen is that they last forever. I have often just switched out the insoles and kept using them- often for years.


prAna
prAna is a super high-quality brand of outdoor and athleticwear that lasts super long. I love their line of clothes made fro hemp- antimicrobial so I don't have to wash it often. I have a pair of yoga pants from them that I've been wearing, hard, for over three years and they still look and act like new.


FitBit
I cannot survive a day without my FitBit! I track my steps (my current goal is 15,000 a day), and I love the alarm feature, which I use to wake up in the morning without waking my husband.
Lately, nap time has been a battle and my girls and I do the "relax" guided breathing before sleep- it's helped all of us settle down to rest. I use the FitBit Charge 3.
Mabel's Labels
Do you know what I hate more than shopping? Buying nice new clothes (hats, shoes, etc) and then having them get lost at school. Mabel's Label's helps me keep our name on our clothing with a wash-resistant sticker that's discrete and cute. Use code PURAVIDA for 15% off sitewide at www.mabelslabels.com (excluding Stamps, Ornaments and Sales).
Health and Beauty
Cera Ve Lotion
I have the dryest skin on the planet, and CeraVe is my standby all-purpose lotion. If it's good enough for Michael Phelps, it's good enough for me.
Boots #7 Line Correcting Booster Serum
This stuff works for fine lines. It's not Botox, but it works to reduce fine lines. And when you hit the buy one get one half off at Walgreen's, it's a pretty darn good deal too. (Except I just checked Amazon and it's HALF the price.)
The Ordinary Hyaluronic Acid
Don't let the word "acid" fool you- this serum will moisturize like no other. I use it anywhere and everywhere. It's cheap too- like real cheap.
Food and Kitchen Products
MRE Lite Protein Powder
This protein powder is low calorie, packed with protein, and has no whey. It's an animal-based protein that works well for my body to stay feeling full, build muscle, and lose weight. Stir it into some oatmeal before cooking- delish! I love the oatmeal chocolate chip flavor best.
Salsa Lizano
No Costa Rican kitchen is complete without Salsa Lizano. It's by far my top seller on Amazon.
Read more about Salsa Lizano here.
Misto
I try to keep the calories low, but sometimes you need to spray your pan! In order to avoid buying overpriced single-use aerosol cans of cooking spray, I use this reusable one. I love the glass one because I can see how full it is. Misto glass oil sprayer- $10 here.
Nuun
These hydration and immunity tablets are the best. When I'm feeling dehydrated or sick, I just throw one in my water bottle and feel a ton better. You can get them at some Target stores, or the complete line is in their Amazon store.
Dr. Bronner's Soap
We have avoided all kinds of illnesses since I eradicated antibacterial soap from our home. Instead, I use equal parts Dr. Bronner's soap and water with a few drops of the DoTerra On Guard essential oil. Smells delicious and keeps the germs at bay.


Parenting Favorites
Shining Light Dolls
We are a Catholic family, and finding ways to incorporate our Catholic faith into our play is so much easier with the adorable Shining Light Dolls. I purchase them for birthdays and Christmas stockings. Each doll comes with the Saint's story- so we learn while we play.
Books del sur
I cannot be a bilingual mom without a serious support team- and a huge part of my support comes from this independently operated, woman-owned bookstore that imports Authentic Spanish Literature at affordable prices. Her collection is phenomenal- check it out.

PBS Kid's Latino
As part of your Amazon Prime Subscription, you can add the PBS kids Latino channel for $4.99 a month. There are seven shows and over 100 episodes of high-quality PBS Kid's programming.
Qwirkle
We cannot stop playing this game! Best for ages 6 and above- prepare to get addicted.
Services
InstaCart
I was really struggling to get it all done- and one morning a week had to be dedicated to the grocery store. No more! For $99 a year, I can have groceries delivered from King Sooper's, Costco, Safeway, Sprouts, Sam's Club and more- and it gets here in as soon as an hour. Outsourcing grocery shopping has been a game-changer for me. Try it at a discount– use code C6A95B815B.
Evolve Vacation Rental
When we moved abroad and wanted to turn out home into a vacation rental, I knew I couldn't manage bookings from abroad. That's where Evolve came in- they take 10% of our booking fee, but in return they provide so much. They take the professional photos of your home, have the API for Air BnB, HomeAway, TurnKey, and VRBO- so your listing jump up in the algorithm fast. Best money I've spent. Get $250 back when you sign up.
Southwest Credit Card
Southwest flies to Costa Rica- and when we've had the Companion Pass which means we get to go home by paying for three tickets, not four. You get a free companion to fly with you for two full calendar years when you accrue the right number of points.
All because we accumulate miles on Southwest with our credit card. Here's how we do it- here's our link to sign up and get maximum miles.
Fun Stuff
Cricut Machine
I'm crafty, but not too crafty. Being able to start and finish a fun, useful project in the span of an hour or two has been really fun for me. I mean, just look at these Spanish Tinkerbell shirts. Shop Cricut here.
Related posts: How To Make an Adorable Tinker Bell Iron On Shirt || DIY Coco T Shirt Idea
Pura Vida Bracelets
When I want to represent a bit of Costa Rica, I throw one on my wrist. The Pura Vida Bracelets Monthly Club is an awesome deal- I've reviewed it in this post. Shop Pura Vida Bracelets best sellers here.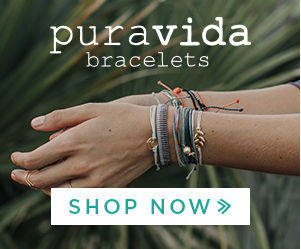 Anne Williams Crafts
My daughters love projects, and I don't. Luckily Anne Williams provides a ton of awesome craft projects for girls that are affordable, and all the materials come in the box. Perfect for everyone. Here's a link to her Amazon shop.
What are your favorite products? Make sure to let me know in the comments and I'll test them out!