This shop has been compensated by Collective Bias, Inc. and its advertiser. All opinions are mine alone. #PilotYourLife #CollectiveBias
Do you have the same memories of junior high as I do? They form a combination of both finding my personality and being a bit afraid to express myself for fear of being teased. One of the ways I would express my personality back in the day was through my handwriting. Ask any of my former teachers- that meant using a myriad of pen colors on all my assignments. My pens allowed me to express my personality with confidence- and they still do (I still carry pouches of colored pens in my work bag!). But times have definitely changed- long gone is the obligatory bottle of white out in the pencil pouch. There are now pens that are completely erasable- allowing us to make mistakes and just erase them… (if only real life worked that way!)
Being organized is another hallmark of our school days, and I want to share with you the perfect solution to student disorganization. In a time where so much of our lives are digitized, the former teacher in me wants to urge everyone to go back to paper and pen with a simple and effective create it yourself daily homework tracker- perfect for grades 6-12 (and college!).
Homework trackers can be expensive. And they get lost. The perfect solution is this simple homework tracker- you can pick up a steno for $0.99 and create a daily tracker in no time. Plus, your child can take ownership of this planner by expressing him or herself as they create it. I tested the FriXion ColorSticks and FriXion Colors Erasable Marker Pens for this post, and can I just tell you, honestly, they write in smooth, vibrant color and erase PERFECTLY without making any holes in the paper? (Don't tell my husband, but if they were to anthropomorphize I would marry them.)
Here's what you'll need:
1 Steno Notebook (College or wide ruled, your preference)
FriXion Colors Erasable Marker Pens: 12 colors
FriXion ColorSticks: 10 colors
Your class schedule (optional)
Creativity!
How to Create Your Tracker:
Make sure that you or your student's name is on the Steno in case it gets lost. This can be on the front or the inside cover. Then, I always use my favorite base color to draw a line down the middle of the page, even though there is already one there.
Next, since this is a daily homework tracker, I write the dates for the week at the top, and then the day of the week. This is a bit Type A, I know, but I even sometimes color code by week. Or go in order of the rainbow with my days of the week. #nerdalert
Next, divide the tracker into the number of classes that your student has, and create a title section for each class. I also leave a space for homeroom or advisory, and for long term projects. You could also leave a space at the end of each page, or after each class for a parent or teacher signature.
Next, write in the name of each section (ie, class name). It is also important to prep students with an example of how to use this tracker, so I have included a photo here. With the Pilot FriXion ColorSticks, you can be sure that any mistake are completely erasable, so encourage your student to take a risk in this section!
And that's it! It's super easy to create your own homework tracker- and usually for less than a dollar. Plus, there's no excuse for losing the planner- you (ahem, they) can just make another!
Pilot FriXion has teamed up with STOMP Out Bullying™– an organization dedicated to creating a positive culture for all students- preventing bullying, cyberbullying, sexting, and educating about LGBTQ issues, racism and hatred and speaking out against violence in schools and online. These types of programs are imperative in our world, especially in a time when teachers work as counselors, pseudo-parents, and educators. Please support these efforts through your purchase of FriXion products- and click on the image below to purchase your pens online.
Shop this image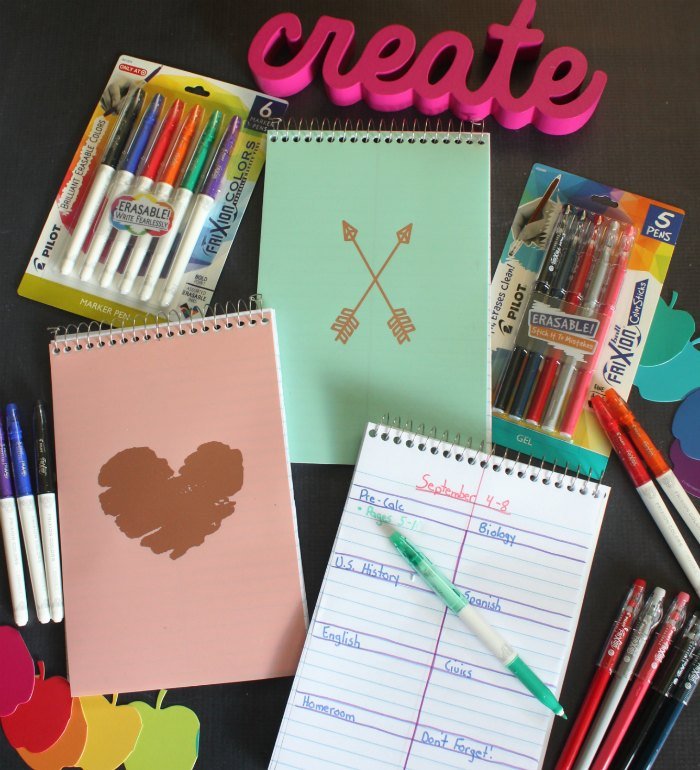 You can find Pilot FriXion ColorSticks and Pilot FriXion Colors Erasable Marker Pens exclusively at Target, both in the Back to School aisle and the stationary sections. For more information, including about Pilot's unique thermo-sensitive ink technology, please visit the America's Best Pens website.
Write Fearlessly! with Pilot FriXion erasable pens and markers, and share your creations, including your own finished Steno notebook planner on Pilot's social media channels, using the hash tag #PilotYourLife
Like it? Pin it!